About the Brockton Symphony Orchestra
About the BrSO | Musicians | Past Seasons | Board and Staff | Music Director
Venues & Directions | Our Sponsors | Join the Symphony!

Our 71st Season: 2018-2019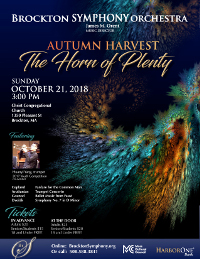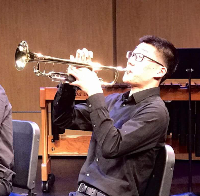 Huanyi Yang,
trumpet
Autumn Harvest: The Horn of Plenty
Sunday, October 21, 2018 - 3:00PM
Christ Congregational Church, Brockton
Copland's famous Fanfare for the Common Man launches our 71st season. We are proud to present the co-winner of our 2017 Youth Concerto Competition, trumpet player Huanyi Yang, performing Arutiunian's fiery showpiece, the Trumpet Concerto.
Copland - Fanfare for the Common Man
Arutunian - Trumpet Concerto
Huanyi Yang, trumpet, co-winner of the 2017 Youth Concerto Competition
Gounod - Ballet Music from Act V of Faust
Dvorak - Symphony No. 7 in D Minor, Op. 70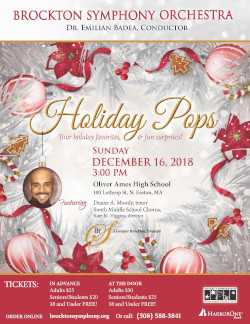 Duane Moody,
tenor
Holiday Pops!
Sunday, December 16, 2018 - 3:00PM
Oliver Ames High School, North Easton
Celebrate the Holidays with your family and friends. Dr. Emilian Badea has chosen your seasonal favorites, along with exciting soloists, sing-alongs, and fun surprises. Rejoice at this memorable performance, at the spacious Oliver Ames High School!
This year we are extremely privileged to welcome our special guests:
Duane A. Moody - tenor
Greg Jukes - xylophone
Sarah Clarke - harp
Susan Caplan - flute
Brockton's South Middle School Chorus,
directed by Kate M. Higgins.
Chamber Music Concert
Sunday, January 27, 2019 - 3:00PM
Christ Congregational Church, Brockton
We offer our popular Chamber Music concert (instrumental music played by small groups), where each musician plays a unique part. The BrSO Chamber Players offer a potpourri of their favorites.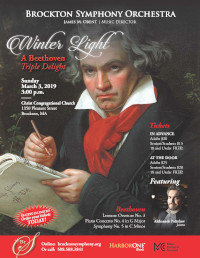 Aleksandr Poliykov,
piano
Winter Light: A Beethoven Triple Delight
Sunday, March 3, 2019 - 3:00PM
Christ Congregational Church, Brockton
Fire up your winter with our all-Beethoven concert, featuring sensational pianist, Aleksandr Poliykov, and Beethoven's beloved 5th Symphony!
Beethoven - Leonore Overture No. 3, Op. 72b
Beethoven - Piano Concerto No. 4 in G Major
Aleksandr Poliykov, piano
Beethoven - Symphony No. 5 in C Minor, Op. 67

Awakening Spring: The French Connection
Sunday, April 28, 2019
East Bridgewater High School
Maestro James M. Orent & the BrSO bring you the epic tale of Symphonie fantastique by Hector Berlioz. Symphonie fantastique is program music that tells the story of an artist gifted with a lively imagination who has poisoned himself with opium in the depths of despair because of hopeless, unrequited love. Experience the heights and depths of love, jealousy, and yearning set in the countryside, at a ball, and haunted by witches, ghosts, and monsters!
Saint-Saëns - Marche héroïque, Op. 34
Debussy - Ibéria from Images pour orchestre
Berlioz - Symphonie fantastique