About the Brockton Symphony Orchestra
About the BrSO | Musicians | Past Seasons | Board & Staff
James M. Orent, Music Director | Emilian Badea, Assistant Conductor
James M. Orent, Music Director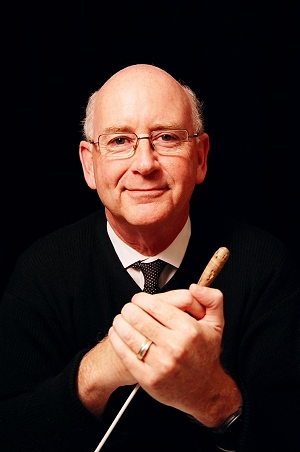 James Orent's lifelong passion for music and aviation can be traced back to his childhood heroes: the Boston Symphony Orchestra and NASA's Mercury Seven Astronauts. Since his debut at eighteen conducting Stravinsky's Symphony of Psalms, he has performed in fourteen countries as a conductor and violinist in music ranging from symphony, ballet and opera, to rock, film and commercial recordings. Celebrating his 29th season as a Boston Pops guest conductor, staff conductor, and violinist, he continues to live his dream of performing with the Boston Symphony, Brockton Symphony, flying, and skydiving.
Since his 2007 appointment as Brockton Symphony Music Director, Maestro Orent has brought world-class performance standards to our treasured musicians and guest artists, raising BrSO to preeminent status among this region's orchestras while remaining faithful to our local mission.
Maestro Orent returns to conduct his colleagues of the Boston Pops and Tanglewood Festival Chorus in Symphony Hall this December. He has led the Pops from Boston to San Francisco, on radio and on national television. He recently made his Hartford Symphony/Talcott Mountain Music Festival debut conducting an all John Williams Tribute, and a return engagement guest conducting the New Philharmonia Orchestra. Other recent Pops highlights include launching the Red Sox' 100th Anniversary Season at Fenway Park, Massachusetts Remembers 10th anniversary 9/11 remembrance at Boston's Hatch Shell, shared concerts with Keith Lockhart and John Williams, and nationally televised appearances at the Celtics' and Red Sox' Championship celebrations. In 2003, he made Boston Pops history with his dramatic substitution for Keith Lockhart at Chicago's Ravinia Festival. In July 2011, he conducted his Brockton Symphony and the Jubilate Chorale before a wildly enthusiastic crowd of 12,000 at Cape Cod's Mashpee Night at the Pops.
Conductor of the Phillips Academy Andover Symphony and Chamber Orchestras, he made his China conducting debut earlier this year, leading his musicians in inaugural season of the newly dedicated Shanghai Symphony Orchestra Concert Hall at the personal invitation of famed Chinese composer Tan Dun. Former Assistant Concertmaster of the Boston Lyric Opera Orchestra and Music Director of the Newton Symphony and Boston Conservatory Repertory Orchestras, he has conducted the Handel and Haydn Society, Fort Worth, Spokane, Springfield (MA), Scottish Rite Masons Millennium 2000, Hartford Ballet, Pro Arte Chamber, Erie Philharmonic, Buffalo Philharmonic, Erie Ballet, Boston Conservatory and Ballet, and Greater Boston Youth Symphony Orchestras, among others.
Maestro Orent won his Buffalo Philharmonic conducting audition by unanimous decision on the semifinal round, earning national recognition as the first Affiliate Artists Conducting Assistant. Flying and skydiving are lifelong interests. Keith Lockhart drew upon his airline and barnstorming experience to fly Celtic musicians from New York to his home in northern Maine...directly through Hurricane Fran. He holds the Airline Transport Pilot Certificate, US Parachute Association's Advanced Skydiver License, and is a member of "POPS," the "Parachutists Over Phorty Society."
Born in Boston, James M. Orent graduated Magna Cum Laude from Amherst College, winning the Sundquist Prize for Performance and Composition. He studied conducting with Charles Bruck at the Monteux School, Otto Werner Mueller at the Yale School of Music, and at Tanglewood. His violin teachers were Phillipp Naegele (Marlboro Music) and Stanley Benson of the BSO. Mr. Orent's 1790 Helmer (Czech) violin belonged to Arthur Fiedler's father, Emmanuel.