About the Brockton Symphony Orchestra
About the BrSO | Musicians | Past Seasons | Board & Staff
James M. Orent, Music Director | Emilian Badea, Assistant Conductor
Venues & Directions | Our Sponsors | Join the Symphony!
James M. Orent, Music Director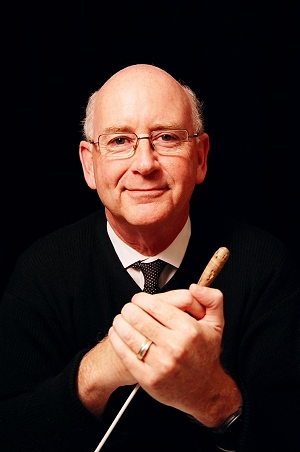 Boston native James Orent's lifelong passion for music and aviation can be traced back to his childhood heroes: the Boston Symphony Orchestra and NASA's Mercury Seven astronauts. Since his debut at eighteen conducting Stravinsky's Symphony of Psalms, he has performed in fourteen countries as a conductor and violinist in music ranging from symphony, ballet and opera, to rock, film and commercial recordings. Celebrating his 13th season as Brockton Symphony Music Director and 33rd season as a Boston Pops violinist, guest conductor and staff conductor, he returns to the Symphony Hall podium this December to conduct the BPO and Tanglewood Festival Chorus, continuing to live his dream of performing with the BSO, flying and skydiving.
Mr. Orent has guest conducted the Boston Pops and Tanglewood Festival Chorus on more than eighty occasions, from Boston to San Francisco, on radio and television, and in support of Red Sox and Celtics championships, the Ryder Cup Matches and Massachusetts Remembers 9/11. Highlights include shared concerts with esteemed colleagues Keith Lockhart and John Williams, and his dramatic 2003 substitution for Keith Lockhart at Chicago's Ravinia Festival where he made Boston Pops history. Recently returned from three Boston Pops US Tours featuring John Williams' film music, he coordinated seven NASA astronaut and Mission Control personnel appearances in the Pops' Apollo 11 lunar landing 50th anniversary celebration, adding this privileged role to his previous work with Buzz Aldrin.
In 2016, Mr. Orent made his nationally televised China conducting debut, leading an international cast of musicians and dancers in the Shanghai Symphony Orchestra Concert Hall's inaugural season at the personal invitation of Maestro Tan Dun. Other recent tours include the Czech Republic, Hungary, Canada, New York, Washington, D.C., Savannah and Charleston.
Former Assistant Concertmaster of the Boston Lyric Opera Orchestra, Maestro Orent has served as Guest Conductor and Music Director with the Hartford Symphony at the Talcott Mountain Music Festival (an all John Williams Tribute), the Fort Worth, Spokane, Springfield (MA), Handel and Haydn Society, Hartford Ballet, Pro Arte Chamber, Boston Conservatory Symphony and Ballet, Greater Boston Youth Symphony, New Hampshire, Indian Hill, Lexington and Melrose Symphony Orchestras, the New Philharmonia, Mass 9/11 Fund, Moises Carrasco Celebration of Life, Scottish Rite Masons' Millennium 2000, Erie Ballet, Newton Symphony and Holyoke Orchestras, Amherst Contemporary Music Ensemble, Phillips Academy Andover Symphony Orchestras, and Principal Conductor of The Boston Conservatory's Repertory Orchestra where he won the Music Division's Outstanding Faculty Award. He was chosen to lead his Brockton Symphony Orchestra and the Jubilate Chorale at the gala 20th anniversary Mashpee Night at the Pops before a wildly enthusiastic crowd of 12,000. Mr. Orent and his Newton Symphony were featured on Brazilian television's international concert series.
Mr. Orent won his Buffalo Philharmonic conducting audition by unanimous decision on the semifinal round, earning the first NEA/Martha Baird Rockefeller Fund/Affiliate Artists residency with the Erie Philharmonic. Flying and skydiving are lifelong interests. Keith Lockhart drew upon Maestro Orent's airline and barnstorming experience to fly Celtic musicians from New York to his home in northern Maine directly through Hurricane Fran. He holds the Airline Transport Pilot Certificate, US Parachute Association's Advanced Skydiver License, earned the Bob Buquor Memorial Star Crest Recipient 8-way award from 14,000 feet over New England, and is a member of "POPS," the "Parachutists Over Phorty Society." This past August, Mr. Orent served as Competition Director for the Skydive Pepperell (MA) 2019 Speedstar Freefall Meet. He flies his 1977 Cessna Cardinal RG aircraft to engagements across the eastern US. He recently made his debut as color announcer for the Air Adventures precision demonstration skydiving team at the Atlas Fireworks Festival. Mr. Orent has lectured to musicians, pilots, skydivers and public speakers on Performance Anxiety/ Performance Enhancement through his Fearless Living Seminars.
Born in Boston, James M. Orent graduated Magna Cum Laude from Amherst College, winning the Sundquist Prize for Performance and Composition. He studied conducting with Charles Bruck at the Pierre Monteux School, Otto Werner Mueller at the Yale School of Music, and at Tanglewood. His violin teachers were Phillipp Naegele (Marlboro Music) and Stanley Benson of the BSO. Mr. Orent's 1790 Helmer (Czech) violin belonged to Arthur Fiedler's father, Emmanuel.