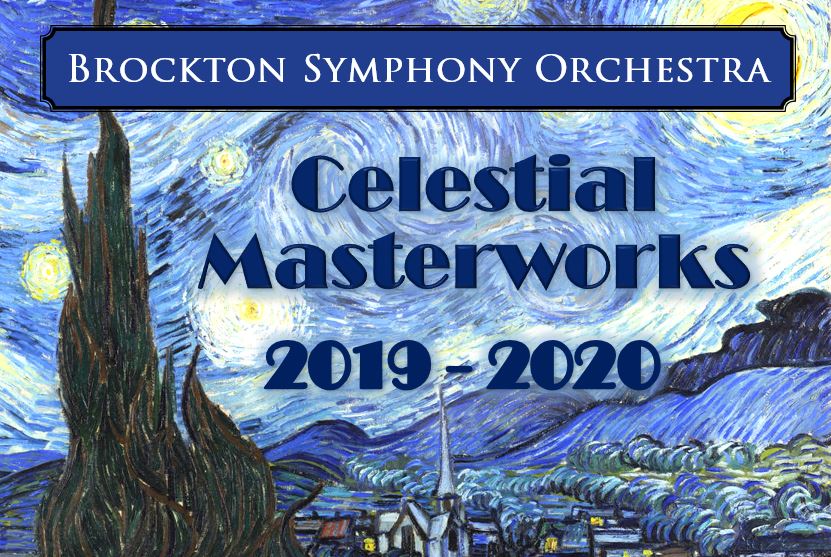 Our 72nd Season: 2019-2020
Celestial Masterworks
We're happy to announce our 72nd season lineup. Mark your calendars and join us for this fabulous season. Program subject to change; check back for updates!
Starry Night, Celestial Light
Sunday, October 20, 2019 - 3:00PM
Christ Congregational Church, Brockton
We open our 72nd anniversary season with our shimmering evocation of Scandinavia's northern lights, the dazzling sparkle of Paris, and the warmth of the German firmament. Vasconcellos Competition winner, Katherine Liu, will astonish you with her masterful interpretation of Saint-Saëns' fiery Second Piano Concerto!
Svendsen - Rapsodie Norvegienne No.3, Op. 21
Saint-Saëns - Piano Concerto No. 2 in G minor, Op. 22
Katherine E. Liu, piano
Winner, 2018 Youth Concerto Competition
Brahms - Symphony No. 3 in F major, Op. 90

Holiday Pops
Sunday, December 15, 2019 - 3:00PM
Oliver Ames High School, Easton
Celebrate the holidays with your family and friends. Dr. Emilian Badea has chosen your seasonal favorites, along with exciting soloists, sing-alongs, and fun surprises. This year features Megan Roth, mezzo-soprano; Dana Varga, soprano; and Brockton's South Middle School Chorus, directed by Kate M. Higgins.
Chamber Music Concert
Sunday, January 26, 2020 - 3:00PM
Christ Congregational Church, Brockton
The BrSO Chamber Players offer a potpourri of music in various styles for small ensembles.
Harmony of the Spheres
Sunday, March 8, 2020 - 3:00PM
Christ Congregational Church, Brockton
Harmony of the Spheres salutes seven luminaries of our classical galaxy as we "Trip the light fantastic" across the spectrum of music's most colorful orchestrators. From Suppé, Sibelius, and Tschaikowsky to Williams, Lehar, Enescu, and Josef Strauss, we serve a scintillating smorgasbord of virtuoso showpieces guaranteed to delight your musical palate.
von Suppé - Poet and Peasant Overture
J. Williams - Rememberances & Main Theme from Schindler's List
Kristina Nilsson, violin
Sibelius - Karelia Suite, Op. 11
Tschaikowsky - Polonaise from Eugene Onegin
Lehar - Overture to the Merry Widow
J. Strauss - Harmony of the Spheres, Op. 235
Enescu - Roumanian Rhapsody No. 1, Op. 11

Night of Passion, Night of Love
Sunday, April 26, 2020 - 3:00PM
Christ Congregational Church, Brockton
Night of Passion, Night of Love brings our concert season to a fiery climax. Thrill to the tone paintings of Josef Suk and Piotr Iliyich Tschaikowsky through Pohádka, the classic Czech romantic fairytale, and the Pathetique Symphony, that quintessential musical portrait of drama and love.
Suk - Pohádka, Op. 16 (Fairy Tale)
Tschaikowsky - Symphony No. 6 in B minor, Op. 74 "Pathetique"

Stay up to date with the lastest BrSO events and news!
You can always rely on information here on our website, but what if you want to be notified directly about our upcoming concerts?
Email Newsletter: The Brockton Symphony Fanfare
You can sign up at this link to receive our concert announcements in your email inbox. These emails come out on average about once to twice a month, and let you know the latest details about our upcoming concerts.
If you're pretty sure you've signed up, but aren't seeing our emails, click here for some tips.
Facebook
If you're a Facebook user, make sure to like our Facebook page, and be sure to customize your settings to ensure Facebook shows you our upcoming event posts. Instructions on how to change your Facebook settings can be found here.