Our 71st Season: 2018-2019
A Cornucopia of Symphonic Treasures
We're looking forward to our 71st season, which starts this fall.
Schedule is subject to change; check back for updates!
The season brochure and online tickets will be available later this summer.
Autumn Harvest: The Horn of Plenty
Sunday, October 21, 2018 - 3:00PM
Christ Congregational Church, Brockton
Copland - Fanfare for the Common Man
Arutiunian - Trumpet Concerto
Huanyi Yang, trumpet, co-winner of the 2017 Youth Concerto Competition
Gounod - Ballet Music from Act V of Faust
Dvorak - Symphony No. 7 in D Minor, Op. 70

Holiday Pops!
Sunday, December 16, 2018 - 3:00PM
Oliver Ames High School, North Easton
Celebrate the Holidays with your family and friends. Dr. Emilian Badea has chosen your seasonal favorites, along with exciting soloists, sing-alongs, and fun surprises. Rejoice at this memorable performance, at the spacious Oliver Ames High School!
Chamber Music Concert
Sunday, January 27, 2019 - 3:00PM
Christ Congregational Church, Brockton
We offer our popular Chamber Music concert (instrumental music played by small groups), where each musician plays a unique part. The BrSO Chamber Players offer a potpourri of their favorites.
Winter Light: A Beethoven Triple Delight
Sunday, March 3, 2019
Christ Congregational Church, Brockton
Beethoven - Leonore Overture No. 3, Op. 72b
Beethoven - Triple Concerto in C Major, Op. 56
Beethoven - Symphony No. 5 in C Minor, Op. 67

Awakening Spring: The French Connection
Sunday, April 28, 2019
East Bridgewater High School
Saint-Saëns - Marche héroïque, Op. 34
Debussy - Ibéria from Images pour orchestre
Berlioz - Symphonie fantastique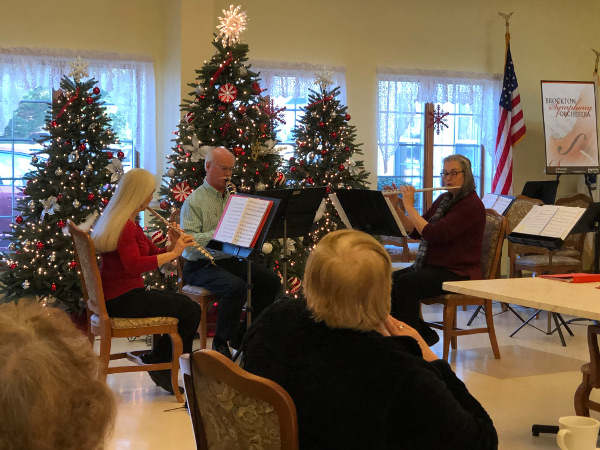 Taste of the Symphony Tour
During our 70th season, Brockton Symphony musicians visited local Councils on Aging to perform small chamber concerts for the residents free of charge, to spread the joy of chamber music and get to the roots of what community performance is all about. Visit this website to read more details and see photos from the performances.