Gala Jubilee Fundraising Campaign
Celebrate our history, guarantee our future
Help us continue to bring live concerts to the Greater Brockton Community for years to come by making a donation to the Symphony today!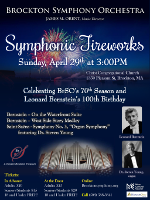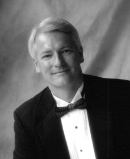 Dr. Steven Young,
organ
Symphonic Fireworks
Sunday, April 29, 2018
Christ Congregational Church, Brockton
Join the musical festivities and celebrate Leonard Bernstein's 100th birthday with a medley from his dazzling West Side Story and his On the Waterfront Suite! Then salute the BrSO's 70th anniversary as Dr. Steven G. Young plays the Christ Congregational Church's beautiful Austin Organ in Saint-Saëns' kaleidoscopic Symphony No. 3, the Organ Symphony.
Leonard Bernstein - West Side Story
Leonard Bernstein - On the Waterfront: Symphonic Suite from the Film
Published by Boosey & Hawkes, NY
Camille Saint-Saëns - Symphony No. 3, Op. 78
Dr. Steven Young, organ

Parking
Parking at Christ Congregational Church is limited - The BrSO is providing a shuttle service from the Pearl Street Medical Center parking lot just down the street from the Church, at the corner of Pearl & Pleasant Streets. Arrive early and take the shuttle to the concert in comfort!
Click here for maps and directions. Note: Please do not park on the grass at the Church.
Ticket Information
After holding our ticket prices steady for the past 10 years, we're adjusting our ticket prices at the door by $5 to reflect the rising costs associated with putting on our quality concerts. But when you purchase your tickets in advance, you'll get a discount - the same price as last year!
Discount Concert Tickets - Purchased IN ADVANCE
$20: Adults
$15: Seniors & Students (with ID)
Purchase online through Etix by clicking this link. Be sure to print your confirmation/receipt and bring it with you!
Call the Symphony Line at 508-588-3841 by Wednesday, April 25th.
Individual Concert Tickets - Purchased AT THE DOOR
$25: Adults
$20: Seniors & Students (with ID)
18 and Under: Always Free Admission!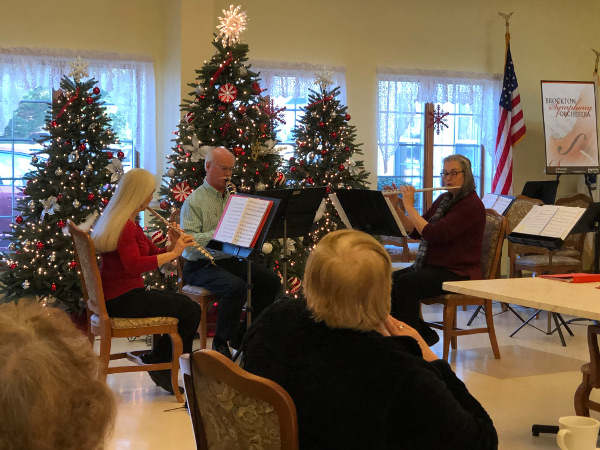 Taste of the Symphony Tour
Brockton Symphony musicians are visiting local Councils on Aging to perform small chamber concerts for the residents free of charge, to spread the joy of chamber music and get to the roots of what community performance is all about. Visit this website to read more details, see photos from recent performances, and find out what our upcoming dates are!