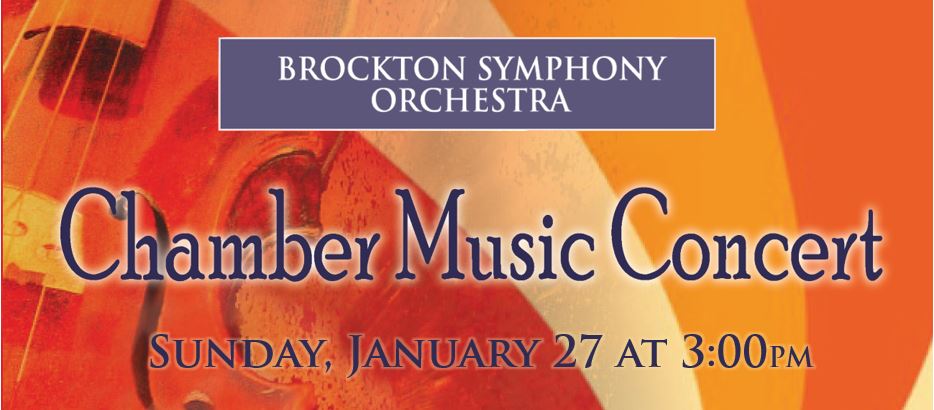 Chamber Music Concert
Sunday, January 27, 2019 - 3:00PM
Christ Congregational Church, Brockton
Our chamber music concert is coming this Sunday! Small groups of Brockton Symphony musicians and friends will present some of their favorite chamber works. This year's selection includes pieces composed by Mozart, Saint-Saëns, Schumann, Gershwin, local composer Erik Lindgren, and others.
Please arrive at the church early to find your parking spot. There will be NO shuttle for this concert.
Autographed Tom Brady Game Jersey - Raffle!
It's nearly time to draw the winner of our autographed Tom Brady Game Jersey, generously donated by the Prone Family Foundation.
You can purchase raffle tickets at our Chamber Concert -- $5 per ticket, or 5 tickets for $20. We'll have the Jersey there on display - 35" wide x 43" high!
The drawing of the winner will be held at the Chamber Music Concert! You do not need to be present to win.
Click Here to get your tickets today!
Photo: Liam Grant
Our 71st Season: 2018-2019
A Cornucopia of Symphonic Treasures
Thanks to everyone who has joined us so far this season! We're looking forward to the rest of our 71st season, with an extravaganza of soloists, symphonies, and stories spun in music.
Click here to download the season brochure.
Winter Light: A Beethoven Triple Delight

Aleksandr Poliykov
piano
Sunday, March 3, 2019 - 3:00PM
Christ Congregational Church, Brockton
Fire up your winter with our all-Beethoven concert, featuring sensational pianist, Aleksandr Poliykov, and Beethoven's beloved 5th Symphony!
Beethoven - Leonore Overture No. 3, Op. 72b
Beethoven - Piano Concerto No. 4 in G Major
Aleksandr Poliykov, piano
Beethoven - Symphony No. 5 in C Minor, Op. 67

Seating in the church is limited to 325. Order your tickets today!
Awakening Spring: The French Connection
Sunday, April 28, 2019 - 3:00PM
East Bridgewater High School
Saint-Saëns - Marche héroïque, Op. 34
Debussy - Ibéria from Images pour orchestre
Berlioz - Symphonie fantastique

Our 71st Season: Chamber Music Extravaganza!
In addition to our beloved January Chamber Music Concert at Christ Congregational church, the Brockton Symphony Chamber Players will also be performing chamber music at many venues around the community. Visit this page to read more details and see photos from the performances.