Gala Jubilee Fundraising Campaign
Celebrate our history, guarantee our future
Help us continue to bring live concerts to the Greater Brockton Community for years to come by making a donation to the Symphony today!

Chamber Music Concert
Sunday, January 28, 2018 - 3:00PM
Christ Congregational Church, Brockton
Come out and enjoy a performance of some of our favorite chamber pieces, performed by BrSO musicians and friends! This year's selection includes several pieces orchestrated for non-traditional groups, including flute quartet, cello quartet, brass quintet with soprano, and mixed ensembles of flute, oboe, bassoon, trumpet, strings, and piano. This delightful music features works by Grieg, Handel, Turina, Poulenc, Corelli, McMichael, and Saint-Saens.
Click here for directions to Christ Congregational Church! Please note that there will be no shuttle for this concert. Please park directly in the church lot (and please do not park on the grass).
Ticket Information
After holding our ticket prices steady for the past 10 years, we're adjusting our ticket prices at the door by $5 to reflect the rising costs associated with putting on our quality concerts. But when you purchase your tickets in advance, you'll get a discount - the same price as last year!
Discount Chamber Concert Tickets - Purchased IN ADVANCE
$20: Adults
$15: Seniors & Students (with ID)
Purchase online through Etix by clicking this link. Be sure to print your confirmation/receipt and bring it with you!
Call the Symphony Line at 508-588-3841 by Friday, Jan. 26th.
18 and Under: Always Free Admission!
This event is supported by ACMP - Associated Chamber Music Players. ACMP is a worldwide membership organization that supports the playing of chamber music for pleasure among musicians of all ages, 
skill levels, and backgrounds.
Across the Stars
Sunday, February 18, 2018 at 3:00PM
Christ Congregational Church, Brockton

Alex Goldberg,
violin

David Vess,
composer
Warm your soul at our family-friendly concert, featuring a program with something for everyone! Immerse yourself in vivid renditions of Smetana's scenes along the river Moldau Dvorak's Eastern Europiean themes in Rhapsody No. 3, and Glazounow's images of medieval Europe in the finale from Suite from the Middle Ages. And explore the galaxy in John Williams' Star Wars Suite and Across the Stars.
The concert opens with a Fanfare composed by BrSO tubist, David Vess, titled Ignite. Click here to read about David, and his thoughts on composing this piece to celebrate the Symphony's 70th Anniversary Season.
Enjoy the solos in Mozart's charming Sinfonia Concertante for Winds, as each orchestra section showcases their instruments - Mark Finklestein, oboe; Torben Hansen, clarinet; Marina Krickler, French horn; and Emilian Badea, bassoon.
We also feature the winner of our 2016 Youth Competition, violin virtuoso Alex Goldberg, performing Sarasate's exhilarating Carmen Fantasy.

Our Gala 70th Season: 2017-2018
There are just 3 more concerts left in our 70th Anniversary Season. Don't miss out!
January 28: Chamber Music Concert
February 18: Across the Stars
April 29: Symphonic Fireworks
Click on the concert name for more information, or click here to get all the details of our current season.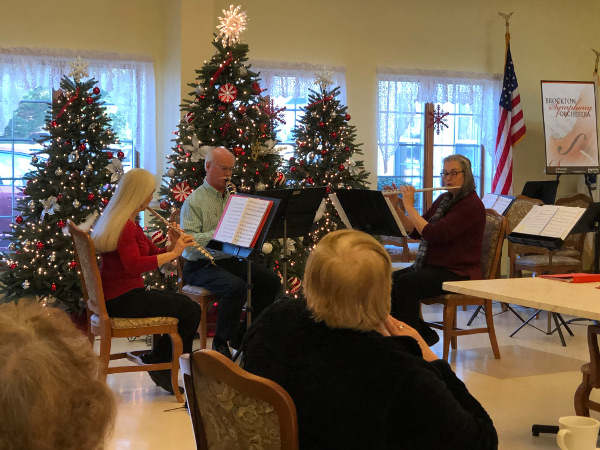 Taste of the Symphony Tour
Brockton Symphony musicians are visiting local Councils on Aging to perform small chamber concerts for the residents free of charge, to spread the joy of chamber music and get to the roots of what community performance is all about. Visit this website to read more details, see photos from recent performances, and find out what our upcoming dates are!