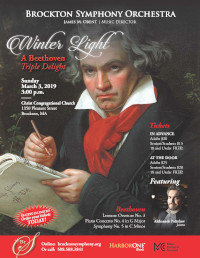 Aleksandr Poliykov, piano
Winter Light: A Beethoven Triple Delight
Sunday, March 3, 2019 - 3:00PM
Christ Congregational Church, Brockton
Fire up your winter with our all-Beethoven concert, featuring sensational pianist, Aleksandr Poliykov, and Beethoven's beloved 5th Symphony!
Beethoven - Leonore Overture No. 3, Op. 72b
Beethoven - Piano Concerto No. 4 in G Major
Aleksandr Poliykov, piano
Beethoven - Symphony No. 5 in C Minor, Op. 67

Seating in the church is limited to 325. Order your tickets today!
Parking at Christ Congregational Church is limited - The BrSO is providing a shuttle service from the Pearl Street Medical Center parking lot just down the street from the Church, at the corner of Pearl & Pleasant Streets. Arrive early and take the shuttle to the concert in comfort!
Click here for maps and directions. Note: Please do not park on the grass at the Church.
Congratulations to the winners of our Tom Brady Jersey Raffle:
Diana and Eddie Jury


A special thank you to the Prone Family Foundation for generously donating the Brady Jersey to the Symphony.
Thank you to all of our patrons and community members who supported the Symphony by purchasing raffle tickets, to Barrett's Alehouse and Shaw's Five Corners in North Easton who hosted our Raffle on their premises, and to Lorrie Hassan for spearheading this fundraising campaign.
And congratulations to Tom Brady & the Patriots, Super Bowl LIII Champions!
Save the date: Final Orchestral Concert of our 71st Season!
Awakening Spring: The French Connection
Sunday, April 28, 2019 - 3:00PM
East Bridgewater High School
Saint-Saëns - Marche héroïque, Op. 34
Debussy - Ibéria from Images pour orchestre
Berlioz - Symphonie fantastique