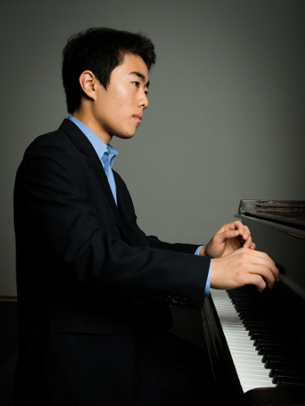 Seho Young, piano
Seho Young is 16 years old, and is currently in 11th grade at Phillips Academy Andover. Seho started learning piano when he was seven years old and has been part of the New England Conservatory Preparatory School and the Juilliard School Pre-College. He has studied piano with Tatyana Dudochkin, Yoheved Kaplinsky, and Wha Kyung Byun, and has received masterclasses from Jeffrey Kahane, Fumiko Eguchi, Piotr Paleczny, and Choong Mo Kang. Seho has performed at Carnegie Hall, the Kennedy Center, Jordan Hall, and Sanders Theater, and has played with the Pro Arte Chamber Orchestra and the Boston Conservatory Orchestra. Seho was invited to perform in Moscow as a winner of the Vladimir Spivakov's International Charity Foundation Award.
Recently in New York, he was awarded first place for Preludes and Fugues from the Well-Tempered Clavier at the Rosalyn Tureck International Bach Competition. He has participated in the American Fine Arts Festival, the Aspen Music Festival, and the Ishikawa Music Academy. Other than classical piano, Seho enjoys improvising and composing, and has received the ASCAP Foundation Morton Gould Young Composers' Award. At Andover, he has studied jazz piano and trumpet, and is the conductor of a small band. Seho loves working with 3D printers and playing Ultimate Frisbee.
This past summer, Seho attended the Paderewski Piano Academy in Bydgoszcz, Poland.
"I studied the second piano concerto by Rachmaninoff with internationally-acclaimed professors Ilja Scheps and Andrea Bonatta, both members of juries of the world's most famous piano competitions. I received 3 masterclasses from each teacher, and had 4 rehearsals with the Torun Symphony Orchestra, conducted by Anna Mroz. We stayed in the Ostromecko Palace Hotel, and our lessons and rehearsals were conducted there, and the first gala concert was held in Torun while the other was held in Bydgoszcz. Link to the concert programs of everyone who participated. I was very fortunate to learn different musical approaches to the concerto from the professors and tips on playing with an orchestra from the overall experience."
Link to Photos: Link 1 Link 2 Link 3