❄ 2023 Holiday Pops: A Brockton Christmas ❄
Brockton High School Concert Choir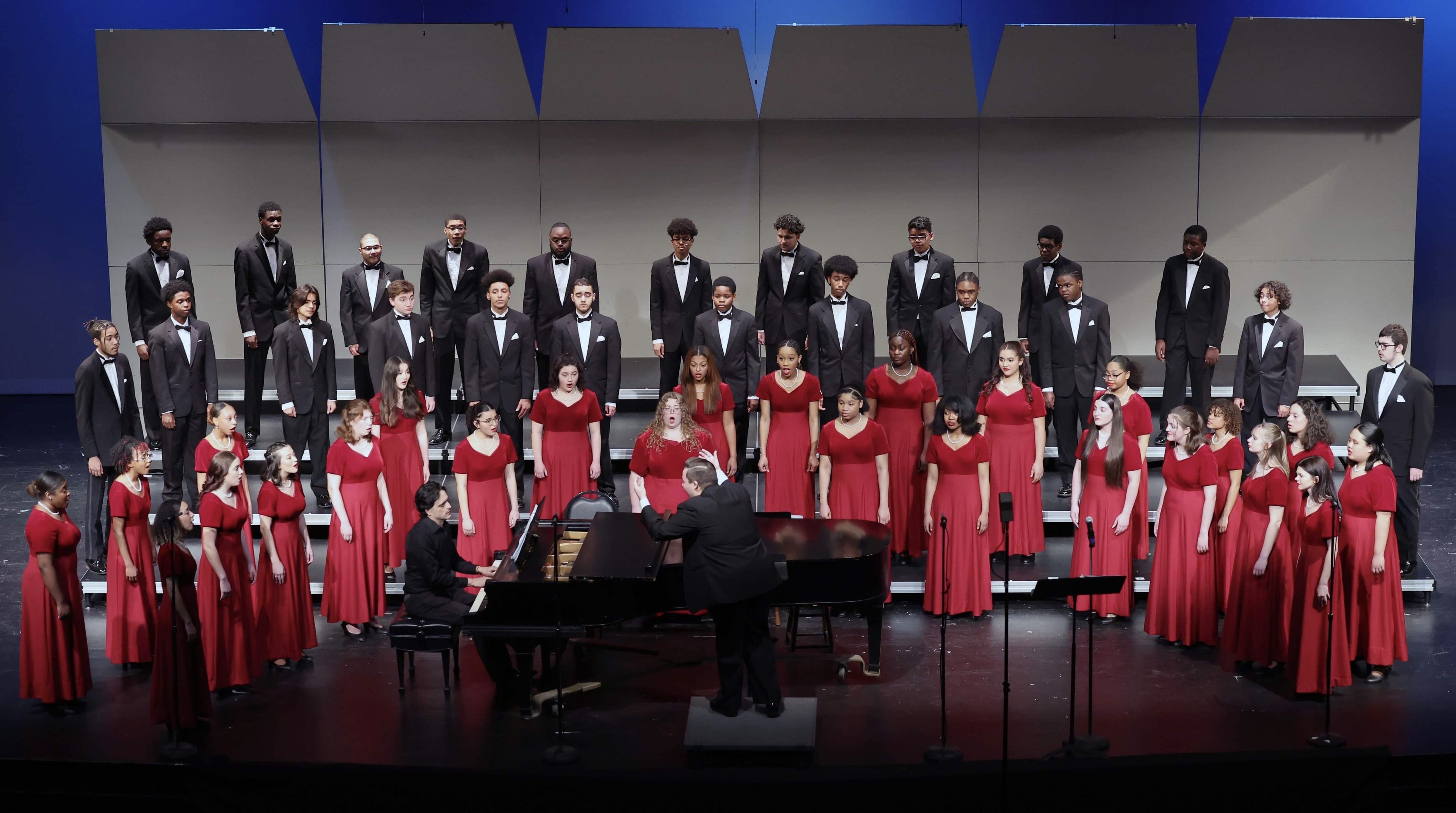 Forty singers make up the Brockton High School Concert Choir, which performs in five major school concerts each year, in addition to representing the music department at community events. The choir has consistently earned superior ratings at state and national festivals, and has performed at Symphony Hall in Boston and Mechanics Hall in Worcester as part of the MICCA Gold Medal Showcase. The BHS Concert Choir has performed at Eastern Division Conferences of the American Choral Directors Association (Boston 2016), and the National Association for Music Education (Providence 2015, Pittsburgh 2019, and Rochester 2023).
For many years, the BHS Concert Choir has had a partnership with the Handel and Haydn Society of Boston and has performed in the Collaborative Youth Concerts with other select Massachusetts high schools. In 2014, the BHS Concert Choir performed in concert with the classic rock band, Foreigner, at the Blue Hills Bank Pavilion in Boston. They have sung for such dignitaries as U.S. Senator Edward Markey of Massachusetts and President Jose Maria Neves of Cape Verde. In 2018-2019, the choir was selected as the 2nd place winner of the American Prize in Choral Performance.
Each year, numerous students from the ensemble are selected to participate in the Southeastern Massachusetts Senior District Chorus and the Massachusetts All State Chorus. Students from the choir have also participated in regional (Boston 2016, Pittsburgh 2018, Rochester 2020, Boston 2022) and national (Minneapolis 2017, Kansas City 2019, Cincinnati 2023) honor choirs of the American Choral Directors Association. Over the years, Concert Choir has toured to Washington D.C., Myrtle Beach, Arlington VA, New York, and Walt Disney World.
The 2023-2024 BHS Concert Choir
Sopranos
Zoie Abdelnour
Lydia Bloodsworth
'Elliana Cabellon
Emilia Cabellon
Courtney Donovan
Sadie McAllister
Djayline Mendes Dos Reis
Tesfaye Pierre
Addison Shaw
Ella Solari
Marinez Tramontano


Altos
Kylie Brown
Melanie Cardoso
Kaitlyn Chavez
Dora Dorval
Amaiyah Duarte
Gianna Garnett
Amari Jean-Baptiste
Larissa Tavares
Herberlyn Tropnas
Sophia Werra




Tenors
Brandon Agenor
Nehemiah Castelo
Alex Donovan Jones
Nicholas Gaynor
Moise Mars
Giovanni Michel
Brian Moniz
Stevèn Nascimento
Angel Rivas


Basses
Nicholas Colby
Arian Dubuisson
Daniel Hill
Jordan Jenkins
Asigh Odom-Santana
Jason Onyeka
Nicholas Rosado
Jacob Simmons
Nicholas Soares

Matthew Cunningham, choral director
Matthew Cunningham is in his eleventh year as the choral director at Brockton High School in Brockton, Massachusetts, where he conducts five choirs, teaches piano classes, and is musical director for the spring musical.
Matthew received his Master of Music (M.M.) in Choral Music Education from Florida State University and his Bachelor of Arts (B.A.) in Music Education from Providence College, where he graduated with honors. He has had the privilege of studying conducting with Dr. T.J. Harper, Dr. Kevin Fenton, Dr. Michael Hanawalt, Dr. Andre Thomas, and Dr. Michele Holt.
He maintains an active schedule as a guest conductor, clinician, and adjudicator. Recent engagements include conducting the 2023 Central Massachusetts Junior District Mixed Chorus, the 2022 Tri County Massachusetts Festival Chorus, the 2019 All Cape and Islands Senior Chorus, the 2018 Quabbin Valley Music Educators Association Mixed Chorus, and the 2017 Rhode Island All State Junior Treble Chorus. An active member of NAfME and ACDA, Matthew currently serves as President-elect of Massachusetts ACDA, Vocal Adjudication Chairperson for SEMMEA, and is a member of the Diversity, Inclusion, Equity, & Access Committee for MMEA. He has served as Concert Coordinator for the 2019 Massachusetts All State Festival and High School Honor Choir Coordinator for the 2020 ACDA Eastern Region Conference. Matthew was also a quarterfinalist for the 2024 GRAMMY Music Educator Award.
Additionally, Matthew keeps busy as a freelance musical director and keyboard player for local theatre companies in Massachusetts and Rhode Island. He is also assistant music director for the Together In Christ Collaborative of West Bridgewater and East Bridgewater, MA.