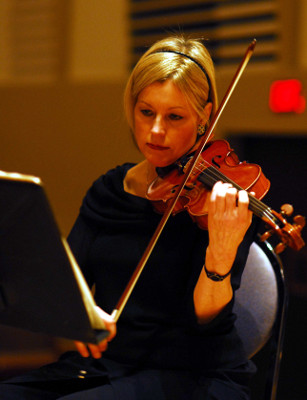 Kristina Nilsson, violin
One of the Boston area's busiest free-lancers, Kristina Nilsson has played regularly in the first violin sections of the Boston Pops Esplanade and Boston Ballet Orchestras for over 20 years. She has also appeared as soloist with both the Pops Esplanade (under John Williams) and the Boston Ballet (in Vaughan-Williams' Lark Ascending), as well as with National Symphony (Washington, D.C.), Newton Symphony, Brockton Symphony, Quincy Symphony, Boston Lawyers' Orchestra, Brookline Symphony, and the Pro Arte Chamber Orchestra, of which she is a co-founder, and with which group she has co-soloed with both Joseph Silverstein (former concertmaster of the Boston Symphony) and violinist Arturo Delmoni.
Currently the Concertmaster with the Pro Arte Chamber Orchestra, Brockton Symphony, and the orchestra of Coro Allegro, she has also served in that capacity with Newton Symphony, Chorus Pro Musica, Spectrum Singers, Harvard Chamber Orchestra, Harvard Collegium, Harvard-Radcliffe Chorus, Wellesley Symphony, Lake George Opera, the orchestra of Festival Dei Due Mondi in Spoleto, Italy, and the Berkshire Music Festival Orchestra at Tanglewood, where, as a student, she received the coveted Joseph Silverstein Prize for Excellence in Violin Playing, endowed by Joseph Gingold.
Under the auspices of the American Schubert Institute, Ms. Nilsson has publicly performed nearly every violin work in the Schubert oeuvre, both chamber and solo works, including the New England premiere of a new edition of his Konzertstück for Violin and Orchestra, with the Pro Arte. As a member of Lavazza Chamber Ensemble, she annually performs in numerous chamber music concerts in Brookline and Boston.
With her two sisters, also professional violinists, Ms. Nilsson can be heard on an Angel CD featuring Garrison Keillor, entitled Now it is Christmas Again, and she served as concertmaster (of Pro Arte and the Back Bay Chorale) for recordings of Robert Kyr's The Passion According to Four Evangelists (New Albion Records) and John Knowles Paine's St. Peter Oratorio (with Gunther Schuller), as well as on recent premiere recordings of a concerto written and performed by fiddle soloist Mark O'Connor, and in a choral work with Coro Allegro – Shofar (by Robert Stern) on Awakenings. As a substitute with the Boston Symphony, she participated in recording the soundtracks for Schindler's List and Saving Private Ryan.
Ms. Nilsson has coached violin sectionals at Boston Youth Symphony and served as adjudicator for Massachusetts Eastern District Orchestra auditions and for various youth concerto competitions in the Boston area.
As a volunteer with the national organization Recording for the Blind and Dyslexic, Ms. Nilsson regularly reads and digitally-records textbooks. She also serves as a lay reader at The Parish of the Good Shepherd in Waban, MA.
Kristina Nilsson holds a B.A. summa cum laude from Connecticut College, an M.M. from New England Conservatory, and a J.D. cum laude from New England School of Law; she is a member of the Massachusetts Bar. Her husband, Dean Rhodes, recently retired, was a Principal in the tax department of Ernst & Young accounting firm for 25 years. Dean & Kristina have two adult daughters, Hillary and Erica.