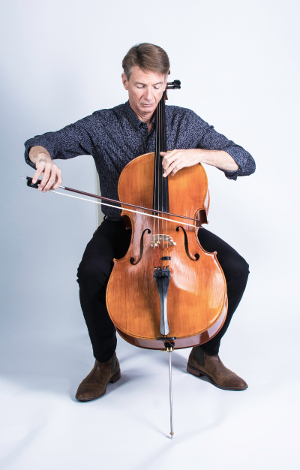 Kevin Crudder, cello
Kevin Crudder has enjoyed a career performing in three continents with an amazing array of artists from Luciano Pavoratti to Led Zeppelin, including performances on National Public Television and Radio and recordings for the NuClassix label and the National Archives.
His studies include work at Kansas University with Edward Laut, and at Indiana University with Gary Hoffman and Janos Starker, where he received his Master's degree. Summer festivals include performances at Aspen, Spoleto, Taos and Tanglewood, where he was a three-year fellow, receiving the Jackson and Levinson performance awards.
Kevin has served as principal cellist for the touring companies of the Royal Ballet and American Ballet Theater, as well as the national touring productions of Phantom of the Opera, Miss Saigon and Les Miserables. In the Boston area, Kevin has been a soloist with the Boston Ballet Orchestra and the Martha's Vineyard Festival Orchestra, and he continues to enjoy the privilege of being a member of the outstanding cello section of the Boston Pops Esplanade Orchestra as well as ongoing performances with the violin/cello duo ClearVision with his life partner violinist Dana Ianculovici. "I express my sincere gratitude to the musicians of the Brockton Symphony for their love of music and their willingness to share it with me."